There are many ways to stabilise a pallet. An alternative to Gripsheets and in some cases a better solution is to use a stabilising adhesive that is customised to your own needs. These types of adhesive are unique – water based and solvent free. The adhesives are all biodegradable. For volume automated production lines, the equipment is usually installed just before the palletiser with the chosen adhesive applied by spray gun or roller. The system is simple cost effective and clean and can be used on paper, polyethylene and woven sacks as well as cardboard cartons cases and shrink trays.
Our service provides you with a high level of preparatory work:
We test your packaging and recommend an adhesive – If necessary we will formulate one
We demonstrate the adhesive and it's properties
Then and only then, do we proceed to real production trials
When you are ready we will loan you a machine, and provide assistance with installation
We will monitor it's progress
Different packaging requires different application methods. Rollers for polyethylene sacks, spray guns for cartons – we have a solution
Bag Fix Palletising System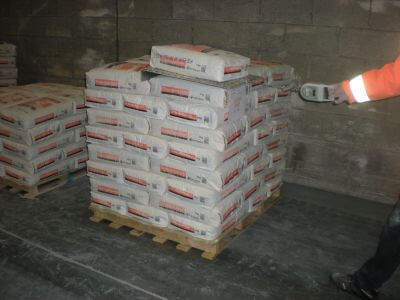 Bag Fix palletising systems will meet all your production needs, from a simple hand applied gun to a fully cased cabinet for dusty production sites. All the machines use the same components an all the components of the system are in stock.
All machines feature the same specifications:
Can be fed from a variety of container sizes.
The system is closed all the way through to the delivery system – be it a gun or a roller.
Automatic detection of different pack sizes
Low level alarm with plc interface
Skip application for the top pallet layer
No down time – adhesive changes do not stop production
Quick connect delivery systems
Exact measurement (and therefore application levels)
Automatic pump dead space cleaning
To which we can add:
Customised application guns with positive seal and sprinkle (adjustable Spray) function.
Roller applicators with quick release fittings for cleaning and / or replacement.
Stainless steel cabinets for dusty environments.
Temperature controlled heating cabinets, tubing and guns for operation down to -20°.
Multi head machines – several guns fed from one machines.
Bag Fix Palletising Adhesives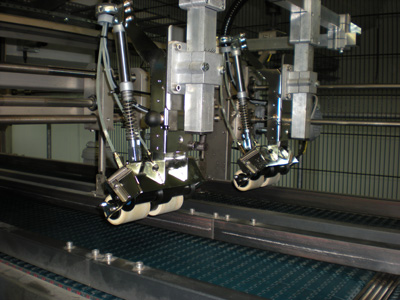 Currently over 80 different adhesives are in constant use around the world, more if you add the specials. Just like there is no such thing a normal polyethylene sack, so too is there no such thing as a normal adhesive – we will supply or formulate an adhesive to suit your own environment and if you should ever need to change the supplier of your packaging then we will check and reformulate to ensure you get the correct adhesive for your packaging.
Adhesives are supplied in a variety of container sizes, from 30 litre polyethylene drums all the way up to 1,000 litre IBC's. All containers are one way only, rinse them out and throw them away or reuse them. A collection service exists in the UK to take away used IBC's.
Once you have a system from us you have a commitment. We hold your adhesive in stock and supply typically in 3 – 5 days